GREATNESS STARTS WITH GREAT GROCERIES
Plan for a weekly shopping trip. Sketch out your week ahead and think about meal and snack needs—and any upcoming challenges like competition, eating out, travel, etc.

Take stock of what you already have on-hand in your pantry, fridge and freezer. Perhaps you can plan a meal around something you already have in your kitchen.

Write out your shopping list.

Shop the perimeter of the store for most of your items. That's where less-processed, whole foods are typically found.

Remember that convenience costs! Pre-packaged meals are easy but usually only provide 1 to 2 servings. Consider buying the ingredients separately and making your own meals when you have time.

Plan a little prep time into your trip. Take 30 minutes when you get home to wash and cut produce, cook a batch of rice for the week ahead and get some meat marinating for tonight's dinner. It's easy to do when you've got everything out and accessible.
THE LIST
Use this as your guide every time you shop, and refer to our "Plan your Performance Meal" handout for even more helpful info.
FRUITS

---

Apples 
Apricots 
Bananas 
Berries 
Cherries 
Citrus fruit 
Dates 
Grapes 
Kiwi 
Mangoes 
Melons 
Nectarines 
Peaches 
Pears 
Canned peaches 
Applesauce 

VEGETABLES

---

Asparagus 
Avocado 
Beets 
Bell peppers 
Broccoli 
Carrots 
Cauliflower 
Garlic 
Green beans 
Kale 
Lettuce 
Mushrooms 
Onion 
Potatoes 
Salad mixes 
Snap peas 
Spinach 
Sweet potato 
Tomatoes 
Zucchini 
Canned tomatoes 
Canned corn 

PROTEINS

---

Lean beef 
Pork tenderloin 
Ground turkey 
Chicken breasts 
Seafood 
Canned tuna 
Lean deli meat
 Eggs 
Hummus 
Tofu  
Beans/lentils 

DAIRY

---

Skim, 1%, 2% or whole milk 
Chocolate milk 
Greek yogurt 
Cottage cheese 
String cheese or snack cheese
Shredded cheese 
Sliced cheese
Cream cheese 
Sour cream 
Butter 

WHOLE GRAINS

---

Whole grain breads 
Whole grain cereal 
Oatmeal 
Whole wheat pasta 
Corn tortillas 
Whole grain/rye crackers 
Quinoa 
Cous cous 
Pasta 
Brown or wild rice 

SWEET TREATS

---

Dark chocolate (>70% cacao) 
Frozen yogurt 
Fruit sorbet 
Instant pudding 
Dark chocolate-covered nuts 
Whole grain fig bars 
Dried fruit 

SNACK FOODS

---

Popcorn 
Pretzels 
Whole grain crackers 
Sweet potato/beet chips 
Snap pea crisps 
Roasted chickpeas 
Rice crackers 
Nuts and nut butters

REMEMBER

---

Canned, frozen and dried produce are all good choices 
Complete your shopping list with condiments like olive/canola oil, vinegar and honey
Herbs, spices and seasonings add flavor and nutrition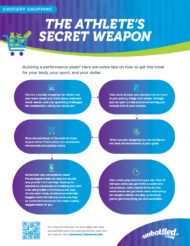 Download Great Groceries Handout
Download this single-page handout so you can print out copies, or simply view as a PDF.
Download PDF